FORT MILL CHILDRENS CHURCH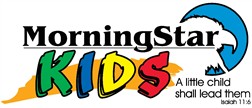 About MorningStar Kids
Our vision for children's ministry is one that values relevant teaching and practical application for the children. We believe children posses extraordinary gifts that are accessible now and seek to provide an environment that supports training and releasing of these gifts. We want to release children that will positively influence their environment because they know God. We excel in leading a thriving Children's Ministry that builds up children, families, and people groups. We coordinate and coach volunteers and interns, support parents and families through Sunday services, prayer, teachings and training, curriculum development and book studies, passionate worship and prophetic ministry, outreaches and family events for the health and growth of children and families at MorningStar Fellowship Church.
Sunday Services
Sunday morning children's ministry classes involve infants, children, and youth hearing foundational truths of who we are as Christians, being taught how this applies to their life, and then given an opportunity to operate in a safe environment, with their gifts. We also allow time for playtime & crafts with young children and games & creative release (i.e. drama, art, journaling, etc.) for older children that strengthen the concepts being covered. This obviously is age appropriate but the goal is the same; that they would begin to understand that they have been created for a purpose and are empowered to walk in that now.
Junior High (Meets Twice Per Month)
Boys and Girls from our Junior High  class meet bi-monthly on Sundays in the MSU Room. Please email mskids@morningstarministries.org for the schedule.
MorningStar Kids Volunteers
As a church we believe in Equipping and Releasing the body to do the work of the gospel. We are looking for people to help fulfill their destinies. We have several opportunities open! If this interests you please contact mskids@morningstarministries.org to receive a volunteer application and get connected!